---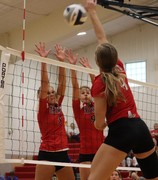 Senior Beth Wiese and junior Ashlynn Novotny reach on defense.
---
Clarkson-Leigh Hosts Volleyball Jamboree
Columbus Lakeview and Norfolk Catholic participated with Clarkson-Leigh in a Jamboree Triangular on August 20.
Only two sets were played during each game. The C-L Patriots were able to take both sets away from the Norfolk Catholic Knights, having a close last set. The Patriots were able to smoke the Lakeview Vikings during the first set, but suffered a close loss on the second set. Overall, the Pats finished 3-1 sets for the night.