---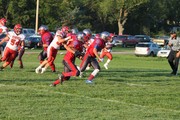 Halee Steffensmeier
#42 Hector Mendoza runs for a touchdown.
---
Patriots Fall to Pendragons
On Friday, August 25, at 7:00, the Clarkson-Leigh Patriots and Pender Pendragons went out onto the field Leigh, Nebraska. It was a beautiful night for football, with the temperature around 80 degrees. Last football season, the Patriots were victorious over Pender, and this year the Pendragons came into the game looking for revenge.
The Patriots had a very strong first possession, scoring the first touchdown of the game, but it wasn't enough as the Pendragons outscored the Patriots by 22 points in the second quarter. Freshman Tommy McEvoy of Clarkson-Leigh said, "It was a good learning experience."
The final score had Pender taking the victory: 20-40.