COVID protocols from hosting schools for events.
East Husker Conference School's Covid guidelines.pdf
WINTER- Clarkson Covid Athletic Protocols December 2020 .pdf
Clarkson-Leigh Home Event Protocols:
As the DHM is adjusted in the state of Nebraska Clarkson-Leigh Patriots will be adjusting our attendance policies for home games. For games that are not marathon games such as a girls night only or boys night only we will have open attendance. Everyone will still be required to wear masks while in attendance. For combined boys and girls game nights we will be expanding our attendance for families to go past grandparents. Other family members or family friends will be admitted as long as they are on the list ahead of time. To get on the list the families may add people through their coaches to the list so we can keep track of numbers so we meet current DHM's.
---------------------------------------------------------------------------------------------------------------
EAST HUSKER CONFERENCE WRESTLING TOURNAMENT AT PENDER January 30th, 2021
ADMISSION: $5—ADULTS, $4—STUDENTS (PASSESS ACCEPTED: EHC ADMIN+EHC, NSAA MEDIA)
Please inform your parents and fans that we will not allow plugging in of any electrical appliances (crockpots, roasters, etc.)
Covid Protocol: Each wrestler and coach will get 2 fans. A google spreadsheet will be used to check fans in at the door.
-----------------------------------------------------------------------------------------------------
Oakland-Craig Winter Sport COVID Protocols
BASKETBALL & WRESTLING--Main Gym
400 people are allowed in our gym under the current 25% DHM. Tickets will not be required for entrance to most home contests. Attendance is limited to household members of participants only (under new DHM effective through 12/31/20). Fans must be on the list of household members to enter.
Tickets will be used to limit attendance at our wrestling invites.
MASKS
All fans will be required to wear masks at indoor Oakland-Craig events.
Coaches and non-active participants are required to wear face coverings at all times.
Dance and cheer are considered non-active participants.
Officials/score table: Score table personnel will wear masks. It is not required of officials.
CONCESSIONS
We will have a concession stand, as long as we are not in the red risk dial. We will only sell pre-packaged drinks and candy. There will not be a "kitchen" concession selling hot dogs/nachos, etc. Single file lines at each window, please follow social distancing guidelines while in line.
TEAM MEALS
We will not allow post-game buffets or team meals in our common area.
STREAMING
We will broadcast most home events on our Striv channel. Links will be sent out prior to the game and posted on our social media pages.
____________________________________________________________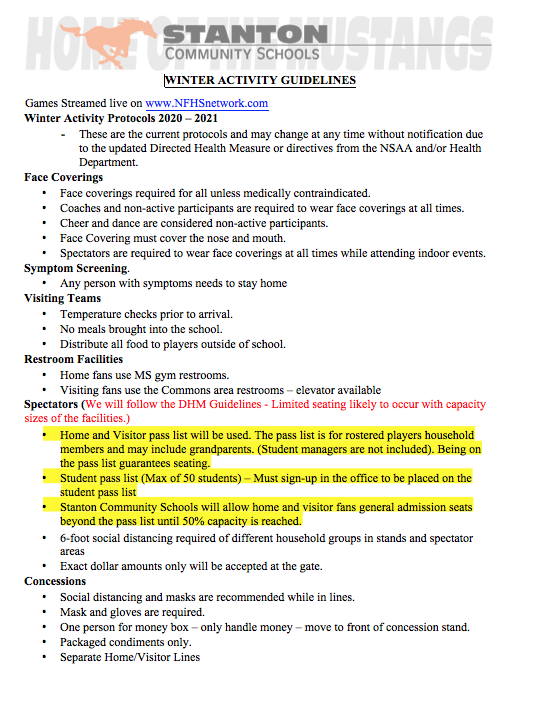 Stanton Games will be streamed on the NFHS Network. https://www.nfhsnetwork.com/schools/stanton-high-school-stanton-ne
_________________________________________________-
COVID GUIDELINES FOR WRESTING EVENTS:
Thank you for your patience but with the new DHM we had to review some procedures. Below are some of the guidelines.
1) Only 1 spectator per wrestler is allowed and that person must be in the same household as the participant and hold a ticket.
2) Spectators will sit on the North side bleachers and will be expected to socially distance themselves.
3) Wrestlers will be spread out by teams on the South side and other designated places. Wrestlers need to stay in their designated area unless they are wrestling or about to wrestle. We do not want wrestlers in the stands with spectators at all.
4) Although each team is allowed to 5 team personnel we ask that teams only bring what they need. Do not use all 5 team personnel passes if they are not needed.
5) Masks are required at all times except for the participants during their matches.