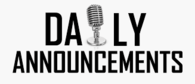 The week of October 5th - 9th will be Homecoming. On that Friday, October 9th, we will have a 2:00 pm dismissal. There will be a community Pep Rally on Friday at 3:30 pm in Clarkson (either on mainstreet or at gym). There will be NO Homecoming dance this year. There will be more information to come.
Check out the COVID protocols article for the most up to date info for hosting school for sporting events.
Great news! From September 1st through December 31st (or until USDA fund are no longer available), CPS students will receive FREE breakfast and lunch! Main meal are free, but there will be charges for extras. Lunch accounts have been adjusted and balances are reflected with the changes as of September 1st. Money previously deposited will be kept in the account for extras and also then will be used when the USDA funds are no longer available. No refund checks will be issued.
________________________________________________________________________________________________
Clarkson Public School Parent Teacher Conferences Guidelines
As we move towards our fall Parent Teacher Conferences, scheduled on Wednesday, September 16 from 5:00-8:00 pm, we will be making some adjustments to help us keep everyone safe.
We will be allowing parents to do meetings via phone, zoom meeting or other electronic means to help keep in-person numbers down. These meetings can be set up on different days or times other than the scheduled PTC.
We are leaving time available for teachers on Wednesday afternoon and during the day on Friday during our In-Service.
If you are not feeling well, please DO NOT attend the conferences, we can work with you on getting communication with your children's teachers.
Meetings will be kept brief, we would like to see them under five minutes. If you have multiple students, allow for extra time.
We ask that parents do not bring other children in who do not come to school to the conferences. Children must be seated with their parent during in-person conferences.
We will not be serving refreshments.
We also ask that parents of children in grades 4th-12th please check their students' grades on JMC on the school website (top of the page). If you have any problems logging on please email agurnsey@clarkson.esu7.org for help. By looking at grades ahead of time you may feel comfortable in just emailing with the teachers with any questions you may have for them.
Please reach out to school administration or your child's teacher if you have any questions about this new process!
It's a GREAT day to be a Patriot!!
______________________________________________________________________________________________________
The 2019-2020 yearbooks are HERE! Bring $47 to Mrs. Morfeld before or after school to get your copy of LIFE SUPPORT (checks payable to Clarkson Public Schools). (There were no pre-orders in the spring; books are available as quantities last. The price will go up to $52 after Christmas break.)
The yearbook staff is looking for students who are interested in taking pictures at school activities. If you are able to take pictures at softball, volleyball, or football games, please talk to Mrs. Morfeld. No experience necessary!
School Hours and Inclement Weather - The school day will begin at 8:05 a.m. and end at 3:37 p.m. If it is necessary to dismiss or cancel classes because of inclement weather, a JMC message will be sent via the phone number and the email address parents furnish.
read more
The Clarkson-Leigh vs. Howells-Dodge Girl Basketball subdistrict final this Thursday at 7:00 pm will broadcast live on KLIR 101. The audio is also streamed live at mycentralnebraska.com . read more